Spinal Decompression
Many Americans deal with back pain everyday but not all of us take a conservative approach to addressing the issue. We take pharmaceuticals to mask the pain, or we hope it will eventually resolve on it's own. Some of us go to our medical doctor, some even go to the Ortho for evaluation.
Most of the time, our pain is mechanical in nature and pharmaceuticals only give us temporary relief. Other times, it can be soft tissue related, meaning its a disc that is putting pressure on a nerve. When this happens, the pain can sometimes shoot down our leg all the way to the foot. Most Orthos will recommend steroids, physical therapy, and or rest. Some of us aren't so lucky and they recommend surgery. With more and more research, we are finding surgery isn't always the best answer for low back pain caused by a herniated disc.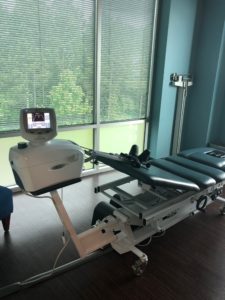 How does Spinal Decompression Work?
Spinal decompression has shown to be one of the best conservative approaches to herniated disc. Decompression of the back works in multiple ways. The first way it works is by gently pulling on the spine to stretches the muscles around the spine. The reason you want to stretch the spine is to break the guarding of the muscles around the joint. This breaks down the muscle memory and allows for proper movement of the spine. Research shows that spinal decompression also creates a negative vacuum effect on the herniated disc, which allows for reabsorption of the disc. Most people think that once they have a herniation that it will never heal. With decompression therapy, research has shown that you can heal the disc and relieve the patients symptoms.
What Conditions are Decompression used for?
Back or neck pain or sciatica, which is pain, weakness, or tingling that extends down the leg
Bulging or herniated disks or degenerative disk disease
Restricted spinal joints (called posterior facet syndrome)
Injured or diseased spinal nerve roots
Muscle spasms
Tight muscles
How Is Nonsurgical Spinal Decompression Done?
You are fully clothed during spinal decompression therapy in our office. Dr. Gibson fits you with a harness around your pelvis and another around your trunk. You either lie face down or face up on a computer-controlled table. A doctor operates the computer, customizing treatment to your specific needs. With decompression of the neck, there is a harness that will traction on the back of your head to create the decompression that is needed.
Treatment may last 20 to 30 minutes and you may require 20 to 28 treatments over five to seven weeks. Before or after therapy, you may have other types of treatment, such as:
Electrical stimulation (electric current that breaks down muscle memory)
Ultrasound (the use of sound waves to generate heat and promote healing)
Heat or cold therapy
Are you a candidate for Spinal Decompression?
We compress our spine everyday, when do we ever decompress it? Most of us, the answer is never. With that said, almost anyone could benefit from Spinal Decompression. It is a great non invasive, non surgical option for treating back or neck pain caused by tight, guarding muscles, herniated disc, degenerative disc disease.
Dr. Gibson at RTP Chiropractic in Morrisville has been performing Spinal Decompression for over 8 years. He will tailor a specific treatment plan for your condition to help resolve your symptoms. Call our office today to learn more and if Spinal Decompression is right for you.